New Beatles Backing Tracks Added
The following backting tracks of Charlie's cover version of Beatles songs are now available for purchase
Come Together
Crippled Inside
For No One/Here Comes The Sun/Things We Said Today
Here, There And Everywhere
I Will/Ticket To Ride
Imagine
In My Life
Jealous Guy
The Long And Winding Road
Penny Lane
She's Leaving Home
Yesterday
Charlie Joins the British Country Music Hall of Fame!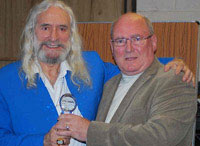 I have known Charlie from the beginning of his career and was one of the first to interview him. I had great pleasure in giving him the award on stage at Salisbury City Hall and inducting him into The British Country Music Hall Of Fame. He is alongside some of the many British Country Music greats who like Charlie have given so much talent to audiences all over the world, showing that Britain can produce top class singers, songwriters, and musicians.
Lee Williams - President of The British Country Music Awards & CMR Nashville.