The famous statement of Charlie's Grammar School Headmaster Mr King - "He had an excellent academic career ahead of him until that damn Banjo got in the way" is absolutely correct, as Charlie was exceptionally intelligent. He could have easily enjoyed success in any number of fields, but it was his love and the strong lure of music that became his obsession. Eventually, at an age when most peoples' musical careers would be in their twilight years, he achieved his well deserved success and became the star his talent had long warranted. However, for many years it seemed that the life in music that he yearned for was doomed; unfortunately unbelievable circumstances outside his control cropped up at critical times to go against him. A lesser person would have thrown the towel in and accepted it wasn't to be. If the Almighty was testing him on how sincere he was with this passion for music, as Charlie believes he was, Charlie certainly passed the test. His strong belief in Him, together with his personal doggedness, talent and ultimate desire to be in the music business came through in the end.
Charlie ventured into various forms of employment, finally using his academic ability and training for three years, qualifying to become a teacher in late 1978. This led to various stand-in teaching positions, finally securing his first full time position in 1980. He remained at the same school until 1995 when he was afforded the opportunity to give it up and become a full time musician. These very varied experiences gave him a great foundation, a down to earth understanding of what life is all about, as well as providing him with a wealth of material which has often been used in his song-writing.
After leaving school at sixteen he soon found himself in his first band The Top Spots. One gig offered him an early entry into the musical history record books. The Top Spots had been booked on the same bill as the Silver Beatles. Somehow Charlie missed the gig and the chance to tread the boards with the biggest and most famous band in history – The Beatles.
When, at an early age Charlie became somewhat disillusioned with life, he decided to follow his brothers and see the world. He tried to join the Navy, but as their office was closed he finished up joining the Army in March 1961 for a spell that lasted just over four years.
While Charlie was in the army his old band The Top Spots transformed themselves into The Undertakers, thus becoming one of the top legendary bands in the Merseybeat era. Sadly Charlie missed out on this.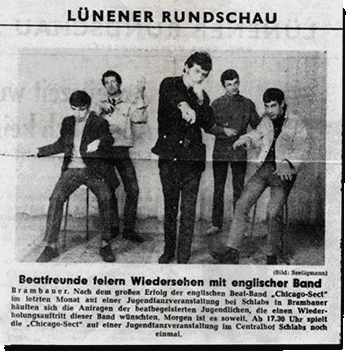 Even in the Army Charlie couldn't be separated from his love of music and his guitar. In 1962 he was posted to Germany, where the people loved their Rock & Roll as much as the folk on Merseyside. It wasn't long before he was performing in another band, The Rockavons (1962-4), whose members were all Army personnel. They had a good following in the local town of Fallingbostel and surrounding areas.
Charlie then moved camp in 1964 to Celle and became the lead guitarist in the newly formed band – The Onions, again it was all army personnel and they played mainly for camp functions and the like.
In 1965, not long after leaving the Army and returning home, he received a phone call from one of his musician friends who had also been in Germany. Ron Thomas, who had been the bass player in The Rockavons, was returning to join a band called Chicago Sect, who were as it happened, looking for a good singer. Ron recommended Charlie who passed the audition and went on to enjoy nine months touring with the band. Although they didn't earn very much money and lived very rough, they became one of the top groups in the Dortmund area filling all the venues they played and gathering a great following.
While playing with Chicago Sect Charlie missed two excellent opportunities. On one occasion Ron Thomas had been informed of a talent competition in a prestigious local night club and wanted Charlie to enter. Sadly Charlie refused. The following week it was on again and Charlie finally agreed to go. They won it convincingly and received a bottle of Champagne as a prize. The owner of the venue, who was also one of the judges of the competitions, asked why they hadn't taken part the previous week. He assured Charlie and Ron they would have won easily, and the awards on that occasion were a recording contract and several TV appearances. Needless to say Charlie wasn't very popular with Ron for missing such a golden chance.
Another time, Charlie and Ron travelled to Ariola Studios in Cologne, in an attempt to interest the executives in signing them. Charlie sang two songs and they were impressed and offered him a contract, but without his friend Ron. Charlie's loyalty wouldn't allow him to do this, and so after negotiation, they finally agreed to give them both a contract and to record a single for the German market; to be arranged for a later date. However, Charlie had to return home to England, as by this time he was married. To pay for the trip back to Cologne, Charlie intended to borrow the money from his brother Arthur. Unfortunately Arthur had been involved in an accident and didn't have the money at the time, and so Charlie couldn't return to Germany and sign the contract and complete the recording. Another opportunity missed.
On his return from Germany Charlie formed a duo, first pairing with Kenny McGunigall, and then later with Dave Carter, and took to playing in local pubs and clubs. He was the resident performer in The Pacific Pub in Birkenhead for 22 years.
There appeared to be a big breakthrough in 1968 when none other than the famous Roy Orbison had been very impressed with a demo tape of Charlie and was on the verge of signing him for his own record label. He had requested that Charlie come down to London, where he was opening his new studio, to meet him for an audition. On his arrival however Charlie found that Roy had dropped everything and flown back to America, as he had lost family in a house fire. This tragedy transformed Roy's life and another opportunity for Charlie had slipped by.
In 1968 he was invited to play with the country group 'The Trade Winds', later renamed 'The Everglades'; this was for only a short period and Charlie moved on in 1969.
Charlie was developing a big name for himself in the local area, guaranteeing a full house wherever he played.
In 1972 Charlie and guitarist Kenny McGunigall appeared on Hughie Green's TV programme Opportunity Knocks. They performed 'The Long And Winding Road' which went down a storm. Even the lead singer of the eight times winners "Airborne" complimented Charlie and Kenny on their performance, and graciously said that he thought they would win. He went on to say if Charlie recorded the song he would go out and buy it himself. Unfortunately they finished second to Airborne, as sadly just prior to the TV Show, the Post Office Department in Birkenhead went on strike and all the local votes didn't arrive on time. Charlie was later informed that if they had arrived on time, they would have won – another near miss !!!!!.
Charlie continued with Kenny playing locally in their duo, but determined to make something of himself, he worked extremely hard to qualify as a teacher (1975 – late 1978). He secured a teaching post in early 1980 and settled into his new career. However, in the evenings and on weekends, he still pursued his musical dream, and in 1984, to spread his net further afield, he embarked on a solo career. This period lasted until 1995 when his big break came. Prior to 1995 Charlie travelled far and wide plying his musical trade playing musical festivals, pubs and country clubs etc. This often resulted in him and Thelma sleeping in the car, as he would travel great distances determined to no longer miss an opportunity. One such journey involved travelling through the night from Cornwall to Cumbria to perform the next day. During this period he also used his spare time to take advantage of the opportunity to apply his song-writing ability in his capacity as a teacher, writing songs for the children to sing at assembly. 'My Forever Friend', 'Special', 'If Only I Had Wings', 'Things My Ears Can Do', 'What Makes Me Happy', and 'God Knocking On Your Door' were all written for the children. Charlie's serious song writing had begun.
Charlie's talent started to gain recognition and he appeared with George Hamilton IV at the Wembley Arena before thousands of people, headlined the British Country Musical Festival in Worthing, appeared on the Wembley Conference Centre as part of Mervyn Conn's great International Country Musical Festival, for the songwriters presentation and performed at the Albert Hall as part of the cavalcade of British Country Music.
All his hard work was beginning to pay off and 1988 saw the start of his numerous awards beginning to flood in: 1988 and 1989 Lazyacre C.M.C. solo awards, 1989 Smokey Mountain C.M.C. solo artist of the year, 1989 Cliffsons C.M.C. top solo award. This gained him momentum and by 1990 the Music Industry were starting to sit up and notice Charlie's ability, both as a song-writer and a singer; he went on to win every award possible in the Country Music scene. The awards are too numerous to mention individually, however, they comprise of best songwriter, best song, best male vocalist, best performer of the year, best album and International Country Album of the year. He also received a nomination as best Global Country Artist in the Country Music Association Awards in Nashville. Many of his albums have topped the Country Charts, as well as getting into the British Pop Charts. He also became one of the all-time biggest selling artists in Irish Music history.
In 1990 Charlie produced an 11 track cassette of his own self penned songs called 'Heaven Knows', which he recorded in a Studio in Bolton, and sold while doing his various gigs around the country.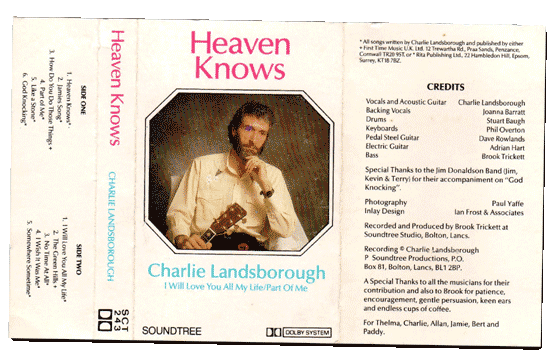 Insert from Charlie's 1990 Heaven Knows cassette.
Other artists, also recognising Charlie's ability as a song-writer, started to record his songs. The well known UK Country artist Little Ginny recorded 'No Time At All' in Nashville of all places. This was followed by Ireland's premier duo Foster and Allen recording 'I Will Love You All My Life' which became a massive worldwide hit for them. A further accolade came when George Hamilton IV also recorded 'I Will Love You All My Life' and dubbed Charlie his 'favourite British song-writer'. As Charlie's success gained momentum it led to his work being covered by several other well know artists including Jack Jones, Pat Boone, Daniel O'Donnell and many more.
Charlie met Mick Clerkin and signed his first record contract with Ritz Records in 1992. He recorded and released 'Songs From The Heart', 'What Colour Is The Wind', 'With You In Mind', 'Further Down The Road', 'The Very Best Of' (Compilation), 'Still Can't Say Goodbye', 'Live From Dublin', 'The Collection' (Compilation). Video/DVD's 'An Evening With' and 'Shine Your Light. Charlie also signed the world-copyright over to Ritz, which meant they had control of all of these albums and some of the songs he had written while signed to Ritz.
It was a very successful partnership and Charlie and Mick Clerkin became very good friends. When Ritz was later reorganised, this resulted in Mick Clerkin passing the Managing Directors roll over to someone else. Sadly, in 2000/1, Ritz UK became the victim of the ever changing recording scene and went into liquidation. Unable to pay their creditors including Charlie, it was at this time that his back catalogue was transferred to the newly named record company Rosette Productions (Ritz Ireland).
With the demise of Ritz UK Charlie signed with Telstar Records in 2001 releasing 'Once In A While', 'Movin' On' and 'Smile'. Sadly Telstar also became the victim of the growing uncertainty of the recording scene and went into liquidation in 2004, unable to pay their creditors, again including Charlie. Unfortunately Charlie had again signed the world-copyright over to Telstar, which meant they had control of all of these albums, however in this instance, he was able to purchase these back from the liquidator.
The friendship between Charlie and Mick Clerkin had remained strong over the years, and with Mick having the majority of Charlie's back catalogue, it made sense for Charlie to sign with Mick's new record company Rosette Records, which he did in 2004, licensing the ex-Telstar back catalogue to them. This resulted in the release of 'Reflections' (Compilation on license to Demon Records), 'The Greatest Gift' (Christmas Album), 'A Portrait Of Charlie Landsborough' (Mainly a compilation on license to Demon Records), 'My Heart Would Know', 'Heart And Soul', 'The Storyteller' (Charlie introducing why he wrote each of the songs), 'Under Blue Skies' and the DVD 'A Special Performance'.
Charlie approached Mick and they came to an agreement in 2009, to return the world-copyright of all Charlie's albums to him. This resulted in Charlie signing for Demon Records in 2010. They have repackaged Charlie's back catalogue of albums and released 'Nothing Lasts Forever', 'Love, In A Song', 'Destination', 'Silhouette' and released an up to-date The Very Best Of.
In total, Charlie has successfully released 22 – Albums, 2 – Comedy Albums and 3 – DVD's to-date, and his sales are racing towards two million albums sold.
As a result of his success, Charlie has appeared on many TV shows. Granada's TV one hour special documentary on Charlie – The Road to Nashville, Granada's TV Christmas Eve Service from Liverpool Cathedral, Songs of Praise from the Liverpool Metropolitan Cathedral, Songs of Praise from Goodison Park (Everton Football Stadium), Terry Wogan, Gloria Hunniford, My Favourite Hymns, the Daniel O'Donnell Show, Phil Coulter Show, Rose of Tralee TV Show, Making a Difference TV Show, London TV Talk of the Town, London Weekend TV, and performances on GMTV and the now much missed Pebble Mill Live which both resulted in the switchboard being jammed with a record number of enquiries. Charlie is also continually in demand to appear on radio all across the country.
Charlie's talent and recognition has also led to a number of other notable events, with his performances receiving rave reviews. One such was being invited to close Ireland's Special Paraplegic Olympics with his own song 'Special'. He was also George Hamilton IV special guest for three nights on the Grand Ole Opry, performing to full houses, which was unprecedented for a UK artist. He also performed at the prestigious Liverpool Summer Pops Festival where the Liverpool Philharmonic Orchestra accompanied him and his band, before a sell out audience of 4,000.
Since 1995 Charlie has toured the UK and Eire twice a year building up a large following for his live work. He has performed at most major concert halls and theatres including London Palladium, Labatts Apollo, Birmingham Symphony Hall, Liverpool Philharmonic Hall, Glasgow Royal Concert Hall, Belfast Opera House, Belfast Waterfront and Dublin's National Concert Hall. He also tours Australia regularly.
Charlie's song-writing is easy on the ear and blends a great cross section of anthem, ballads, blues, country, and folk with a strong and often personal lyric content. This mixed with his wit and repartee, has led to a winning formula which has made an impact on so many professionals and fans alike. Every time he tours we are inundated with comments on how much people have enjoyed his concerts. The following few articles/comments from the Media and TV/Radio presenters actually do more to endorse Charlie's ability to write songs and perform than any statement we might wish to make:
Concert
From Nashville neon to rolling Celtic green, Charlie Landsborough's take on country music swept his audience off their feet. Not an empty seat in the house-and with good reason. Beautiful ballads were definitely the favourites, but when the band cranked it up-Yee-ha! Ride 'em cowboy, with a thigh-slappin', foot stompin' compulsive clap-along numbers that galloped on apace, giving us virtuoso accordion, guitar, bass and keyboard performances. This was a slick show, polished to perfection from the outset-all directed with an unexpected theatrical flair. Landsborough cuts a dramatic figure anyway, but more striking still was his extraordinary ability to tell a good story, both in his songs, and in his gently humorous, familiar banter between each number. And his gift had depth, because he knew first-hand about life's struggles.Most touching was a tribute to his father "My Father used to Sing", in which he sang "My father had the gift of song, and he gave his gift to me ". Having described his father as a "silver-voiced tenor ", Charlie went one better. His was too warm and rich to describe as silver, it was golden, as was the whole evening.

Andrea Charters, Queen's Theatre, Barnstaple.
Radio
I 've known 'Charles Alexander Landsborough' - as I always call him, for many years, and, as time has passed, it has been my privilege to watch him grow to incredible and wholly deserved stardom. In an industry not noted for compassion and sincerity, both in his music and in his persona, he shines like a beacon before almost anyone else I have ever met or worked with. He is adored by hundreds of thousands of fans, and doesn't have an equal.

Richard Spendlove, MBE, BBC Producer/Presenter (South and East of England)
TV
Charlie is like good wine, he matures over a long period, but when the cork is popped its well worth the wait.

Gerry Anderson BBC TV
Fello Artist
I was at a Willie Nelson concert in Nashville recently and I heard him referred to as a "modern day Shakespeare" - the thought occurred to me that there's one in Shakespeare's own country too, and his name is Charlie Landsborough. I don't know who the current "Poet Laureate" of England is, but I'd like to "nominate" Charlie as the next one. In my opinion he certainly "qualifies". I'm a Charlie Landsborough fan and I am honoured, privileged and richly blessed to be a friend of his. May God Bless you, Charlie, and may you stay "Forever Young".

Geo. Hamilton IV, Franklin, Tennesee, U.S.A. (The Colonies)
Charlie is often asked what sparks him off to write a song, His answer is usually it comes from incidents in life and it can come at any time you just don't know. This is why people relate to Charlie's lyrics/songs. It's amazing how much of an impact Charlie's lyrics/songs have on people. We literally have received thousands of e-mails and letters stating how his songs have helped and comforted people in various situations/occasions. Many Charity organisations use his songs for their theme song on their websites and they are used continually at weddings, birthdays, funerals and special occasions. Many schools from the south of England to Scotland have adopted Charlie and his music. This truly is an amazing endorsement to the impact and success Charlie's song-writing has contributed to the music industry. This has been recognised by the British Country Music Association inducting Charlie into their HALL OF FAME. Charlie is a very dedicated Christian and his Faith is extremely important to him. This is evident with some of his songs, however, he strongly believes that everybody has the right to choose in their own belief. He is very intelligent, genuine, approachable, a true gentleman, dedicated to his music/Fans and most of all very well respected as a person by those who know him. This is a remarkable achievement for a lad of very humble beginnings and The Charlie Landsborough Story will gain momentum and has many more years to run. WATCH THIS SPACE.